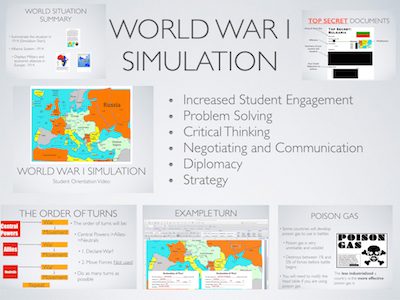 1913
7th Period
Serbia, Montenegro, & Greece
Orientation Day: Today we were introduced to everything. With having three countries and my partner being gone it was a little overwhelming. However, I am ready to take it on and defend my countries. My plan for Serbia is to continue to have an alliance with the people I already have one with. I know that Austria-Hungary is going to try and attack with full force because I killed the ArchDuke. I'm hoping my alliances plan to back me up. In Montenegro and Greece, since I do not have that big of armies especially Greece I am going to try and stay immobilized and neutral for as long as possible. However, if someone surrounding me seems as if they are threatening I will mobilize for my own safety.
1914
7th Period
Serbia, Montenegro, & Greece
Today our plan was to make all of our alliances. As Serbia, we made an alliance with Germany, however, knowing that our greatest alliance is Russia we have there back all the way. I am still preparing for Austria-Hungary to come and start war with us! We are ready for full force. The plan for Greece and Montenegro is to continue to listen to our top secret plan and stay neutral for as long as possible!
1915
7th Period
Serbia, Montenegro, & Greece
This year was very frightening! The country of Serbia was almost overthrown by the central powers, however, with Great Britain on my side and our powerful armies together they had no chance! I'm prepared for next year and austria-hungary to strike back again, I need to prepare and see if Romania or Japan could help me. Also with the help of Italy I plan to attack the lower part of Austria-Hungary and take their land there. Montenegro is a good ally along with Greece, however, they made it apparent they would like to stay neutral for as long as possible in this war! Greece mostly, Montenegro is in it now seeing as they helped Serbia become victorious in the battle against Austria-Hungary! Serbia and Montenegro may be small, but they sure are mighty.
1916
7th Period
Serbia, Montenegro, & Greece
Our country today was taken over, we were not victorious. As Serbia's leader I am truthfully sorry and wish I could have done better. Now it is time to just keep Montenegro and Greece as safe as we possibly can! We are going to try and take every precaution possible. Thankfully, Great Britain protected us today, thank goodness for the Allies! Montenegro is safe for one more day.
1917
7th Period
Serbia, Montenegro, & Greece
Today was a very calm and easy day for Greece and Montenegro. We didn't have any trouble with the central powers, however, I feel bad for Russia. They are getting attacked by Germany over and over again. I'm hoping the rest of the allies can pull through and help them out. Greece and Montenegro are safe for now and I'm hoping we can lay low and stay that way for a while! As Greece I am going to brainstorm up some ideas on how I could get the allies to help me take over Bulgaria so I can get Macedonia under my belt!
1918
7th Period
Serbia, Montenegro, & Greece
Sadly Greece and Montenegro today have been taken over by Germany. They are far too powerful for us to compete with. I wish it would have ended differently, but unfortunately it didn't happen that way! Hopefully France, Italy, US, and Great Britain can make the comeback and takeover the Central Powers and get the land back that we need so badly, or else the future is not very bright for us Allies.