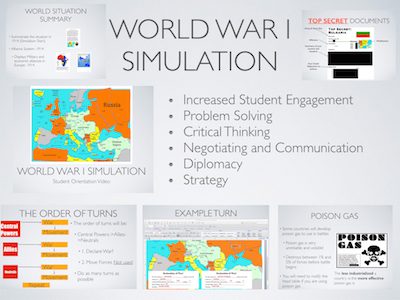 Ottoman Empire 1913 –
Today was a day to strategize, and Sydney and I did just that. We found out that our army isn't the most powerful, but by using our allies, we have a good opportunity to win this war. Germany, one of our best allies, has the best army around. If we can keep them close to us, we could dominate together.
Austria-Hungary is mourning the death of their leader. They are one of our allies as well, so we already have the news that they will be declaring war. We have allied with Bulgaria, mostly because we can go through their land, being able to reach Italy by foot. This war will not leave our hands, this is our time to rise to glory!
Ottoman Empire 1914 –
Germany has declared war on Russia, and due to our alliance, we declared on them too. We know that because Russia is not technologically advanced, we used poison gas. Poison gas has a high chance of working when the country is not technologically advanced. Germany sent 230 troops with poison gas, but it wasn't enough to defeat them, same for us. We were both dominated, and it hurt us big time. Because of our alliance with Bulgaria, we were able to move 200 of our troops there, helping our defense against the aggressive Italy. We are in a good position right now, and are prepared for 1915.
Ottoman Empire 1915 –
Today our main objective is to take over Serbia, most importantly because it is one of our objectives. First off, we have a major problem on our hands. Italy is attacking a part of Austria-Hungary, trying to capture their land. We don't have any troops nearby to defend, but Germany came in to help. Sadly, Italy was successful and we lost a part of Austrias' land. Now, onward to Serbia. We sent in plenty of troops to attack using some of Germany, Austria-Hungary, Bulgaria, and us. We captured Serbia with little effort.
Lastly, Germanys' navy battled Britians' navy in the North Sea Zone. This was a huge risk for us because the British Navy is incredibly strong. Somehow we beat Britain with room to spare. This year was full of accomplishments, but we need to recapture Austria-Hungary's land soon.
Ottoman Empire 1916 –
To start off, Germany, our alli, moved troops into Russian land. We have a major battle at stake. If we can defeat Russia and take over this part of land, we take over the Crimea, which is one of our objectives. Statistics are on our side. Germany has the best army in the war, compared to the Russian empire, which is pathetic. Along with poison gas, we won the battle!
Italy moved troops into the previous land they took over from Austria-Hungary. We need to attack Italy soon to recapture the land.
Finally, Germany defended greatly against Great Britain. They attacked a key part of land in northern Germany, but failed twice. This was a huge win, proving how strong the Central Powers are!
Ottoman Empire 1917 –
Russia has surrendered! Their government failed and left the war. This is huge for us because we had to leave most of our troops on the eastern part of our country in order to keep Russia out of our territory. We are one step closer to winning this war.
Our main objective as a country today was to take over Romania, this is one of our objectives. This is a revenge attack. Romania signed an alliance with us, but left us for our enemies! Capturing Romania will prove to them that they should've never left the Central Powers. By using our troops and German troops , we dominated Romania. The war is far from over.
We need to capture some of Italy's land, and recapture Austria-Hungarys' land. If so, there is a very good chance the war will end.
Ottoman Empire 1918 –
Today is the last push. As our country, we need to take over Greece, which shouldn't be hard. They only have 58 troops left and Frances' 250. But first, to be fair with our allies, we need to recapture A2 with Austria-Hungary and Germany. France took over some of Germany's land, but we returned the favor and got it back. This is a very close war, with the Allies and the Central powers are in a deep hatred with one another. They are trying to deplete our forces, but are failing miserably going up against our well prepared troops. With all of our last strength, we took over a part of Italy, recaptured part of Austria-Hungary, and recaptured Serbia. We were not able to take over Greece. Our troops were not in the right position to attack, a mistake by us.
Victory!! Victory!! The Central powers which included Germany, Austria-Hungary, Bulgaria, and us, the Ottoman Empire, defeated the Allies. It is a great feeling. Being able to defeat Romania, who backstabbed us and left our alliance, and then taking it over was a fantastic feeling. The War was successful, with very little losses for us. We kept our original territory, took over several countries, and lost few soldiers. We cannot wait to come back and celebrate with the wonderful country, the best country, and don't forget, the winning country, the Ottoman Empire!