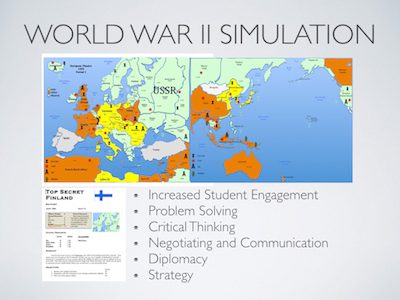 Germany, period 4, 1938
My country is on the brink of war, It's obvious now, and It's been obvious for many years. After France and Britain left us with next to nothing after the Great War, my country and people were left to fend for ourselves. But then a leader rose up. He promised us everything we could ever want.
As the minister of foreign affairs, it's my job to keep the peace between our allies and secure new alliances. I've already spoken with the president and foreign minister of Russia and they have agreed to an alliance that shall be made pubic next year (tomorrow). They shall offer us safety from the east and help us dominate other small countries. I don't know if we will betray them or not though. I suppose that is up to the president to decide, but I think a permanent alliance would be most beneficial.
Our attack plans for the next year are not set in stone, but I believe that taking over the Baltic Sea is our best course of action. In order to do this we must invade Denmark and Norway. Denmark should prove easy and nearly effortless yet Norway could pose a problem if Great Britain tries to intervene. Our navy is strong but I am unsure if we could defeat Britain's navy. Perhaps we could. Only time will tell.
German Minister of foreign Affairs,
Germany, period 4, 1939
The war has begun. Our army struck quickly and precisely and within no time at all Norway and Denmark had been claimed by the Axis. Sweden, being cut off from any others, quickly surrendered and joined the Axis as well. They supply us with lots of iron, just one of the many resources we need.
A chunk of Poland fell to the Axis as well (P1). However, when the USSR tried to claim the other small chunk (P2) They were defeated. I told the president of the USSR that Germany and Romania, another of our allies, would take it for them as a sign of good will. That way they could focus their energies into supplying the nations of the Axis powers with resources. Perhaps we won't betray them after all.
In the coming year I am unsure of what to do next. I think the president would like for us to take Yugoslavia, something that could be easily managed by Austria and Bulgaria. However, I believe that taking the Netherlands would be the next best step, maybe even Belgium. We're secretly allied with them and breaking this alliance may put the USSR into a state of unrest.
For now we must keep them close. Perhaps it would be best to push downwards, help our Italian allies gain more territory in the mediterranean sea area. Doing so would close off the sea for the British and make it difficult for them to reinforce countries such as Egypt, Arabia, Iraq, Syria, etc. It will be smooth sailing, straight to Britain and France from there.
German Minister of foreign Affairs,
Germany, period 4, 1940
My country still stands strong in this war and I could not be more proud. Our troops continue to expand our reaches from the Netherlands to Eastern Poland to the very tops of Sweden and Norway.
This year we gained much territory, taking Yugoslavia and the other half (P2) of Poland. We divided both countries with our allies, the USSR and Bulgaria as a show of good faith. Italy has also been making their advances in the south of Europe as well, claiming Greece and soon Albania for themselves.
In the coming year Germany will push on the Netherlands and then Belgium as well. We have secret alliances with both countries yet as far as I'm concerned, they're nothing but a means to delay their defeat.
German Minister of foreign Affairs,
Germany, period 4, 1941
Our military efforts have proved fruitful this year despite the loss of a major battle.
The Netherlands fell to us easily. None of their so called "allies†even defended them. Afterwards, our troops pushed downwards into Belgium, but despite our strong military power we were defeated when Britain and France decided to intervene. They see just how important that tiny country is in this war and they refuse to let it go without a fight. We may have lost this battle, but I am proud to say we did significant damage to both the British and French armies. Good. Let them weaken themselves. It will be all the easier to take France when it has hardly any troops left.
German Minister of foreign Affairs,
Germany, period 4, 1942
This year put us farther ahead in the war than I could have hoped. After our defeat in Belgium last year, we needed to reinforce our borders and prepare to launch another attack. We waited patiently and struck the tiny country once more. Britain and France did their best to defend it like they had before, but they ultimately failed and not only Belgium, but F1 of France became ours.
Finally! A way to attack France head on from Germany. I had been moving troops into Italy and instructing the President to wait for my order to attack southern France (F2) so that the French would have no choice but to reinforce F2 and leave F3 vulnerable. But this was so much better! Having a foothold in France will work wonders and hopefully secure our victory in this war.
With Belgium and Northern France under our control, my allies and I will finally be able to carry out this little strategy of mine and strike back at one of the countries that humiliated us so much after World War 1. Honestly, I wish we had done this much, much, sooner.
German Minister of foreign Affairs,
Germany, period 4, 1943
Taking the rest of France is proving to be a trickier task than I anticipated. Britain had been shipping soldiers to defend France in a near constant and tedious routine. Not only that, but the United States had finally stepped up and decided to join the Allies in the war. This was definitely a problem. Had Japan, my loyal allies, not gotten too cocky and decided to attack them, we wouldn't be having this issue. That is not the case, however, and now I must deal with the consequences of their actions.
It is not matter though. I will continue to pull troops from anywhere I can, Prussia, Denmark, Austria, Poland, wherever I have troops to spare, and send them to italy or germany so that we may defend. While I scramble for soldiers it is no doubt that Britain and France will be doing the same. While they have America to fight for them, I have my allies in Romania, Bulgaria, and other various places. They send troops as quickly as they can at my command. Once Italy is done taking over the Mediterranean, they will begin shipping soldiers back and the Axis will have even more to spare.
These next few years will decide the fate of the war, I can feel it. We shall see who will be standing victorious when the smoke of the battle clears.
German Minister of foreign Affairs,
Germany, period 4, 1944
At long last France finally falls to the Axis! It took many battles, hundreds of soldiers were lost, but in the end we were victorious and claimed F2 and F3 of France for the Axis. However, I fear we may not be able to defend them for long. Few soldiers were left at the end of the fights and it will take time for reinforcements to arrive. I cannot let the allies take back what I have worked so hard to claim! I can't!
Italy must hurry and send back more soldiers from Libya or French North Africa. I need more soldiers as soon as possible and they may be my only hope.
German Minister of foreign Affairs,
Germany, period 4, 1945
It seems all of my fears and paranoia within this last year was all for naught. Britain and America made almost no attempts at taking back France. Perhaps they have deemed it a lost cause?
They seem to be taking no chances with letting us attack Britain. When I moved the German navy into the Northern Sea Zone, they destroyed the German ships almost immediately. While infuriating I cannot help but be amused. They feared what we would do and took action. Smart.
After our navy was destroyed there was little else we could do. The USSR were still steadfast allies of ours, and I felt that it would be pointless to break this alliance. Italy and Japan continued to work together in the Middle East, conquering countries together until there was nothing else left to conquer. However, America managed to take French North Africa from them just as a call for peace and an end to the war was issued.
Many countries gathered, broken and battered from this long war. Even the people of my own country, the ones who were so eager to fight, seem like shells of what they once were. Peace was finally achieved and treaties were signed by nearly everyone in attendance. They were much fairer than in previous years.
While this war was a bloody and seemingly pointless endeavor, I cannot deny that it had many benefits for my country as well as my allies. Hopefully we can all maintain a lasting peace now that the fighting is over with.
But honestly? I don't think there can ever be permanent peace. I suppose only time will tell.
German Minister of foreign Affairs,