WORLD HISTORY MIND MAPS WITH COGGLE TECHNOLOGY
Students will use Critical Thinking Skills to sequence and create a mind map of events helping them to understand why historical events happened and the impact those decisions had in these world history activities .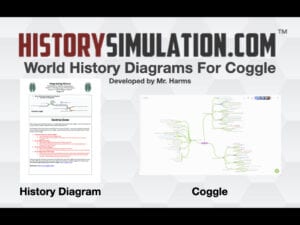 Coggle is an online Mind Mapping program. 
Students begin with a central topic and organize the information from the textbook (green branches) in a way that they can understand better. 
Students then add Concept Branches (purple branches) that fit the information.
Students add links to outside information (blue branches) that they feel needs further explanation.
Students will then answer and create Higher Order Thinking Questions (red branches) that they are given and develop their own as well.​
Green Branches: Notes
Purple Branches: Concepts
Blue Branches: Outside Links
Red Branches: Student & Higher Order Thinking Questions
WORLD HISTORY
PATTERNS OF INTERACTION